Top Talent Book Club
Books That Make You Better
Rediscovering Your Destiny
The Power of Possibilities and How to Reinvent the Inevitable
Dr. Marlena Sherman Linton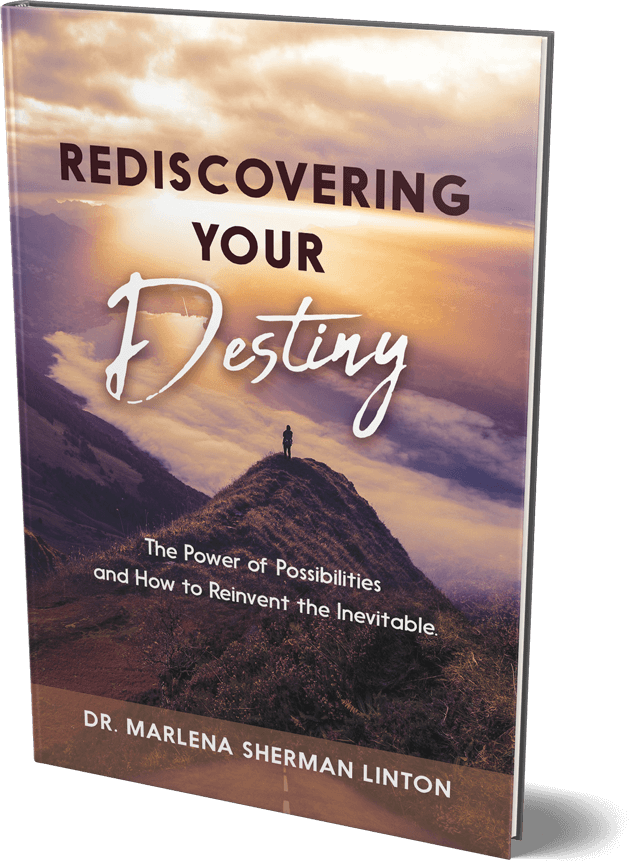 Are you unpleasantly surprised with where you are in life?
Did you think your life would turn out different or better?


Have you been in search for something more meaningful and significant?


If these are questions you are asking yourself, then it's time to rediscover and redefine what's possible in your life. It's time to take your power back and find the good life you are capable of.


In this book, Dr. Marlena Sherman Linton shares her life experiences and how she was living a life of denial, comfort, minimalism, avoidance, and, ultimately, a lesser version of her best self. It took a near death experience for her to finally take a stand and make the commitment to rediscover, redefine and reinvent her life in a way that represents what is truly possible. Dr. Marlena shares her journey of self-discovery and how she came to live a life she knew (deep down) she was born to live. She shares with you the strategies you need to transform your life from uncertainty and confusion to a life of clarity, intention and possibility.


In this book you will learn how to:
Renew your sense of identity, confidence and clarity in your life
Discover a deeper understanding of your past and how it's impacting your daily decisions
Master the most important relationships in your life
Revitalize your career or business
Achieve greater physical and mental well being
And much, much more!


Dr. Marlena invites you to embrace specific ways to let go of what you thought your life would be and discover how great it still can be. This book can help you rewrite your destiny in ways you never thought possible. Dr. Marlena has done it herself, for others and now, through this book, she can do it for you too!
Enjoy The First 40 Pages Right Here
(then scroll down to get free access to the entire book via our online campus)
Ready to experience the whole book using our interactive e-book reader?
Ready to experience the whole book using our interactive e-book reader?
Join the Top Talent Book Club as a free member to get complete access to...
Rediscovering Your Destiny
The Power of Possibilities and How to Reinvent the Inevitable
Dr. Marlena
Promoting Purpose and Passion in every step of her journey, Dr. Marlena, a Sepsis infection survivor, knows what it takes to fight back from the dead, literally! Having spent eleven weeks on life support and being hospitalized for six months, she is a real "walking miracle." Learning to walk, talk and write all over again, she set out to understand her purpose for surviving such a near-death medical complication when most do not. Feeling the need to do more, Dr. Marlena is now committed to helping those individuals who are searching for their identity and self-worth to live out their purpose and passion.

With over 30 years of HR experience, she serves as the Corporate Director of Human Resources at a high profiled aviation solutions company. Dr. Marlena is also internationally known as an accomplished mentor and advisor. She understands what is needed to touch hearts and changes minds for the better.
Ready to experience the whole book using our interactive e-book reader?
Ready to experience the whole book using our interactive e-book reader?